I've been reading "
Getting Things Done
" (GTD) by David Allen, a book on how to organize yourself effectively in an information rich world. It's a nice
lifehack
to improving time management and making work/life easier by getting everything (tasks, ideas, projects) out of your head onto paper/disk.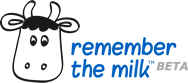 I've also been playing with Remember the Milk (RTM) as a way of implementing GTD, it's a very simple system, but being able to tag tasks and organise them online and your phone is very useful. It really shows how poor Outlook is at basic task management.